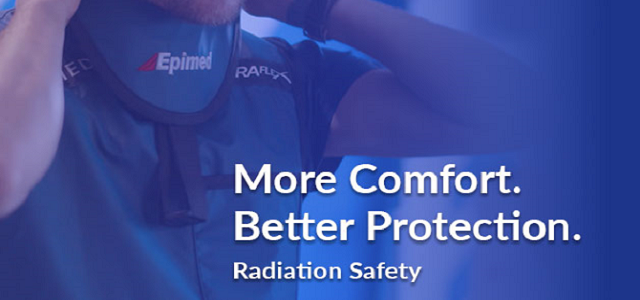 Combine protection and comfort with Epimed Radiation Protection Apparel
In the realm of medical procedures, ensuring both safety and comfort is of utmost importance. This holds particularly true for interventions utilizing C-arm fluoroscopy, where the risk of radiation exposure is a critical concern. Welcome to our exploration of Epimed's cutting-edge radiation protection apparel : aprons and gloves – a vital shield that combines protection and comfort seamlessly.
Radiation Exposure in fluoroscopy
Medical imaging, using C-arm fluoroscopy, is useful in interventional pain management because it helps guide during procedures. However, the risk of radiation exposure is a significant concern for pain physicians and medical staff.
The harmful biological effects of scatter radiation on the human body are well known.
To give healthcare professionals maximum protection, Epimed offers a complete line of appropriate and comfortable radiation protective equipment.
Discover Epimed Aprons for Radiation Protection
Lead aprons are the most effective for personal radiation protection. They may reduce the dose received by over 90% depending on the energy of the X-rays and the lead equivalent thickness of the apron.
To be protected against the harmful effects of ionizing radiation and still have freedom of movement during a procedure using fluoroscopy, Epimed introduces a line of aprons that are at the same time effective and comfortable.
Effective Radiation Protection Aprons for X-Rays
Depending on the needs, different levels of radiation protection can be chosen: to 0.5mm, which offers 100% attenuation @ 100kvp, to 0.35mm, which offers 97% attenuation @ 100kvp.
Two core materials are also proposed: Pb lead apron or Pb-free™ for minimal weight -lead lite aprons are made from an amalgamation of different alloys that all have radiation-blocking properties.
Comfortable and Convenient Design
Epimed aprons offer many advantages:
– Lightweight: Reduces body fatigue, promoting extended comfort during procedures.
– Flexibility: Allows healthcare professionals to move freely without compromising protection.
– Hygienic Material: Crafted with anti-bacterial, stain-resistant, and Covid-19 compliant materials, ensuring a clean environment.
Customization for Your Needs
Made in the US, our radiation protection aprons are custom-made to fit the needs of healthcare professionals.
Different designs are available, including aprons that wrap around the body, a vest and skirt combination, with a magnetic thyroid collar or an option with a Velcro strap.
A thyroid shield is a lead collar that wraps around the neck to block the radiation generated during imaging procedures.
A broad range of colors and different options of the size of aprons are also offered.
To learn more about Epimed aprons for radiation protection, click here.
Elevate Protection with Epimed Lead Gloves
Each time an image is captured, X-rays move through the body in contact with the inner structures. To offset the risk of scatter beam radiation exposure during fluoroscopy, Epimed provides superior tactile lead gloves. Lighter and more flexible than traditional lead gloves, Epimed gloves offer tactile feedback without compromising attenuation. Depending on your needs, three levels of attenuation rates are available.
To learn more about Epimed gloves, click here.
Minimizing Risk. Every Procedure, Every Time. ™