Help Create a World That's Free of Pain
Career Opportunities
Epimed is a development, design, manufacturing and distribution company focusing on standard and unique solutions for physicians with an emphasis on outcomes and safety. We have been creating specialty devices in Regional Anesthesia and Pain for over 40 years.
Engineering and Quality Assurance
Our customers look to us to design and deliver innovative high-quality products that help them improve safety, efficiencies and quality of care for their patients. That is why our Engineering and QA team is committed to designing and manufacturing medical devices that reduce risk, every procedure every time. This means that our products must meet precision design specifications every time.
Regulations and Education
Dedication to improving quality of life and reducing pain extends beyond Epimed's focus on designing, manufacturing and distributing quality products. We are committed to making global healthcare more affordable, accessible and safer for all through our work with regulatory bodies and organizations. We also work directly with Fellows and Physicians offering hands-on labs with top interventional pain management physicians, as well as offering educational resources on everything from procedures to business practices.
Sales and Customer Service
Epimed's continued growth is based on quality products and strong relationships. Our 40+ year history didn't happen without a hardworking and highly collaborative network of people, committed to serving our customers. As front-line to our customers our sales representatives and customer services team members bring quality interventional pain products to the world every day.
Marketing and Creative
Our marketing and creative teams bring the Epimed brand to market. They collaborate directly with internal teams including engineering and design, and sales and customer service. They even work directly with end-users ensuring the value and message of the Epimed products are properly communicated and understood.
Administrative and Support Services
Operating a world-class global medical device company takes a collaborative team working behind the scenes to make sure everything operates seamlessly. From human resources, to accounting, to our front and back office staff, Epimed's administrative and support services ensure that our customers receive the best quality products and service each day.
Manufacturing and Operations
Epimed offers opportunities producing, packaging and distributing medical products that contribute to reducing pain and improving lives worldwide. Our facilities and processes are designed to maintain the highest quality products and the safety of our employees.
Epimed is an Equal Opportunity Employer
Epimed supports diversity and equal opportunity in all aspects of our company. We are dedicated to building a team that represents a variety of education, backgrounds, ideas, and talents. All applicants will be considered for employment without attention to race, color, religion, sex, sexual orientation, gender identity, national origin, veteran, or disability status.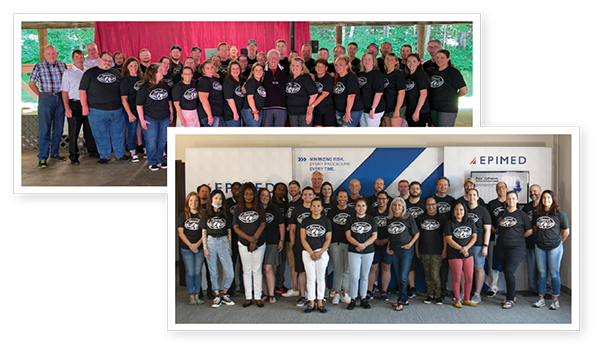 Collaborative & Supportive Culture
Regulatory Affairs Specialist
Dallas, TX - Non-remote Position
We are currently seeking a Regulatory Affairs Specialist to be the focal point for Epimed's efforts to obtain new device approvals and the registration of new or support existing devices for our Dallas location. The Regulatory Affairs Specialist is responsible for maintaining a system by which to mo...
Learn More
Customer Service Rep
Dallas, TX - Non-remote Position
We are currently seeking a Customer Service Representative to join our Customer Service Department in the Texas Office. Must be comfortable contacting customers regarding collection of past due invoices....
Learn More
Clinical Specialist
Dallas, TX - Non-remote Position
The Clinical Specialist works under the direct guidance of an Area Sales Representative, Regional Manager, and or Director of Sales. The primary role of a Clinical Specialist is going into procedures to only provide product support during Spinal Cord Stimulation, Nerve Blocks, Cryo, RF, Lysis of Adh...
Learn More
Quality Control Technician
Johnstown, NY - Non-remote Position
Medical device manufacturer has an opening for a Quality Control Technician. Looking for a person that is a self-starter with common sense and the ability to evaluate statistical data and communicate with all levels of the organization....
Learn More
Production Assembler
Johnstown, NY - Non-remote Position
Performs a variety of bench assembly operations to produce medical devices such as epidural catheters, pain management needles and other various devices....
Learn More
Positions not currently open for this category.
Administrative Assistant
Dallas, TX - Non-remote Position
Initiates, coordinates, and executes administrative support to Executive Team Members....
Learn More