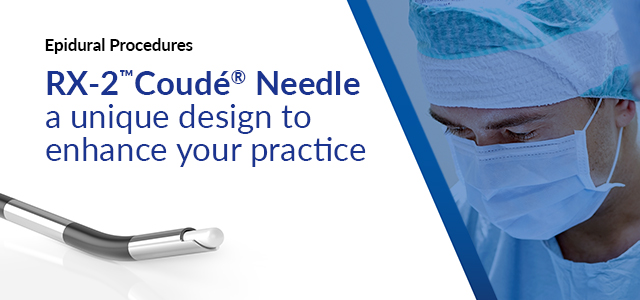 ​Epidural Procedures: Exploring the Epimed RX-2™ Coudé® Epidural Needle
Epidural procedures demand maximum precision and safety. To reduce the potential risk of complications due to the sharp edge of epidural needles movement, Epimed has engineered the Epimed RX-2™ Coudé®. This design features an additional blunt stylet to protect the tissue during the needle advancement and catheter placement.
Distinguishing Features of the Epimed RX-2 Coudé®
Blunt Obturating Stylet to ensure tissues and structures are displaced away from the cutting edge during advancement and rotation.
Coudé Feature enhancing precision and directionality in epidural procedures.
Radiopaque with Depth Markings

 to ensure visibility during imaging processes

Versatility: the RX-2™ is available in 14g, 15g, 16g, and 18g.
Printed arrows on the hub, to indicate the bevel's direction to assist in placement.
Attachable Wings, offering enhanced maneuverability and user comfort during procedures.
The patented Epimed RX-2™ Coudé® is a well-considered addition to the range of tools available for performing epidurals. It embodies the continual efforts to refine and enhance the tools that support healthcare practitioners in delivering care.
Advantages of the RX-2 Coudé Needle by Dr. Gabor B. Racz
Explore the RX-2™ Coudé® Epimed Product Page – Contact a Rep for more details
Epimed Epidural Needles
Epimed develops and manufactures several versions of specialty epidural needles. To learn more about Epimed Epidural Needles Portfolio click here.
Minimizing Risk. Every Procedure, Every Time. ™