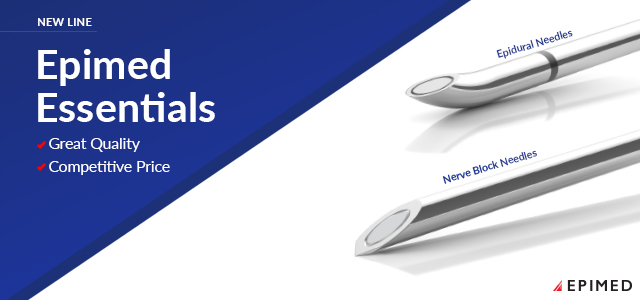 Essential Epidural Needles and Essential Nerve Block Needles: Quality and Affordability for your Medical Practice 
At Epimed, we are proud to introduce our new line of Essential Epidural Needles and Essential Nerve Block Needles. These needles combine reliability and affordability and empower your practice with the essential tools you need.
Introducing Essential Epidural Needles
Our Essential Epidural Needles have been meticulously manufactured under Epimed's rigorous quality control standards. Designed with a Tuohy tip, these needles offer precision for epidural injections.
Essential Nerve Block Needles
Designed with a Quincke tip, the Essential Nerve Block Needles are perfect for nerve block injection, enabling pain physicians to target and alleviate pain with accuracy.
Quality and Affordability Combined
Epimed understands that routine epidurals and nerve block injections are integral to pain management practices. Our Essential Epidural and Nerve Block Needles are designed to offer exceptional value without compromising quality. These needles are tailored for single injections, ensuring reliable performance and ease of use. Given the frequency of epidural and nerve block procedures in medical offices, our discounted pricing for bulk orders exceeding 100 and 300 needles allows physicians to maximize their resources.
Versatility to Suit Your Needs
We recognize that pain management procedures are as diverse as the patients you treat. This versatility ensures compatibility with various patient populations and treatment approaches. To cater to the unique demands of your practice, our Essential Epidural Needles and Essential Nerve Block Needles are available in a range of lengths and gauges.
By incorporating these essential tools into your practice, you can optimize patient outcomes while effectively managing costs.
Learn more about the Essentials and take advantage of our bulk pricing.