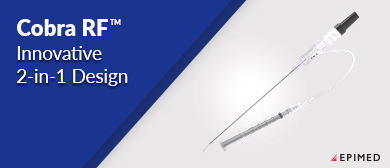 Cobra RF™: Streamline your radiofrequency procedures 
The Cobra RF is a radiofrequency cannula with an integrated extension set, allowing you to switch between injecting anesthetic while the RF probe is already in place. This cannula features improved procedure times, reduced needle tip migration, and simplifies radiofrequency ablation.
Radiofrequency Ablation: Improved Procedure Time
Reduce the time between injecting anesthetic after inserting an RF Probe with the easy-to-use Dual-Injection Hub. With this hub, you can inject local anesthetic through the side port without the hassle of removing and replacing the RF Probe.
Cobra RF: Reduced Needle Tip Migration
Another advantage of the Injection Hub with dual ports is reducing the amount of needle tip migration. With this technology, you will have less needle migration because you won't have to remove the probe to inject an anesthetic, potentially causing you to move the needle's tip location.
Simplify your Radiofrequency Procedures
The Cobra RF™ is compatible with the majority of probes on the market and many different radiofrequency generators, so there is no need to worry about whether you have the right equipment.
Specification details of the Cobra RF
We offer the Cobra RF in various gauge sizes, including 16g, 18g, and 20g. These three gauge options can be either 10 cm or 15 cm long, all exhibiting active tip sizes of 10mm.
Choose the RF cannula that best fits your practice here.
Epimed Radiofrequency Medical Devices Portfolio
Epimed offers multiple radiofrequency medical devices, including tools like:
RF™ Grounding Pad
The RF™ Grounding Pad is a radiofrequency patient plate meant for use with RF Thermocouples. Each pad is single-use, non-sterile, and latex-free. Reusable cable available separately. Learn more here.
Disposable RF™ Probes
The Disposable RF™ Probes are the perfect tool for single-use radiofrequency procedures. They feature lightweight hubs, reinforced breakage-resistant cable, and color-coded markers for identification. Learn more here.
Nitinol Hyperflex™ RF™ Probes
The Nitinol Hyperflex™ RF™ Probes are a fantastic tool you can utilize. They are reusable, possess a lightweight hub, and are made from durable, nickel-titanium "memory metal." These probes are fully autoclavable and come in a variety of lengths. Learn more here.
RF™ Probe Cable Marker Set
The RF™ Probe Cable Marker Set comes with four color-coded cable identification markers, making needle selection during a procedure much easier. These markers are autoclave compatible and can be reused. Learn more here.