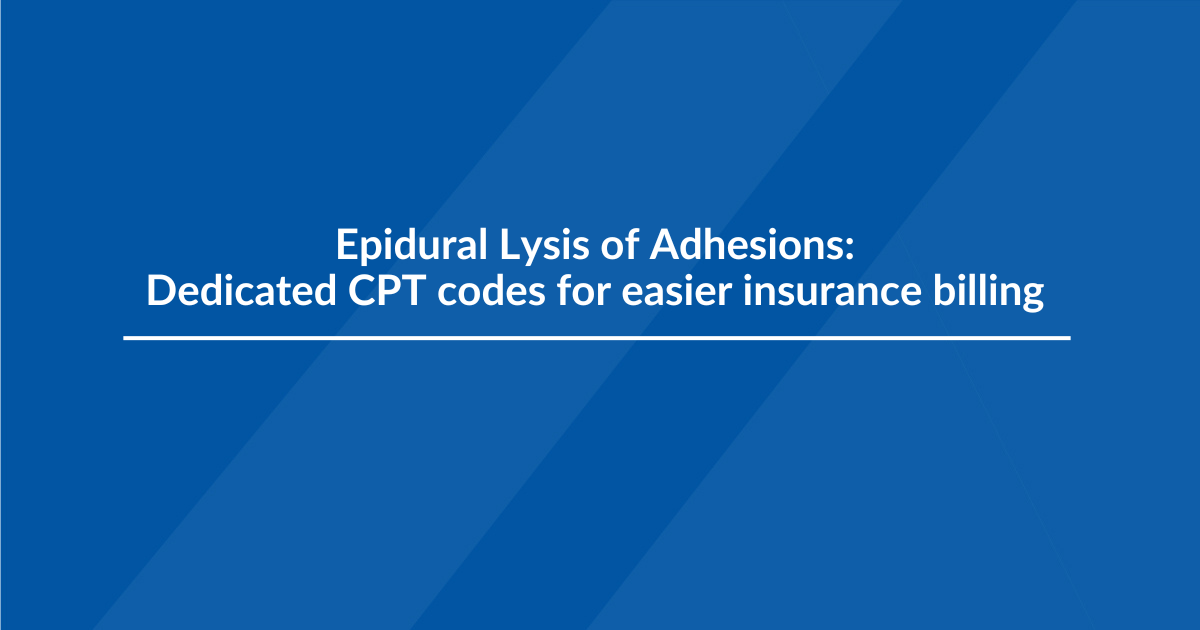 Epidural Lysis of Adhesions: An Overview of Its Reimbursement
Epidural Lysis of Adhesions (ELA), commonly known as the Racz Procedure*, is a minimally invasive procedure performed to break down scar tissue in the epidural space of the spine. This scar tissue can be a source of chronic pain for many patients, particularly those who have undergone back surgery. This procedure has been proven as an effective in treating chronic pain due to scar tissue formation and cover by insurance.
This treatment is most often performed on patients with Failed Back Surgery Syndrome (FBSS), spinal stenosis, and radiculopathy. It can also be effective in treating leaky disc and many situations in which excessive scarring exists in the anterior lateral epidural space.
CPT Codes: Choosing the Right One for Epidural Adhesiolysis
It depends on the method. You should use CPT codes 62263 or 62264 for a percutaneous lysis of epidural adhesions which is performed using a percutaneously deployed catheter.
If the procedure is performed endoscopically use the unlisted code 64999. The difference between CPT 62263 and 62264 is 62264 is multiple sessions over a 1-day period and 62263 involves multiple sessions of 2 or more days.
Also keep in mind that epidurography and/or fluoroscopic guidance is included and not reported separately.
Epimed's Physician Services at Your Side
Reimbursement for medical procedures is essential for the healthcare industry, allowing practices to provide the necessary treatments while covering their operational costs. It is not always easy to stay updated with coding and reimbursement guidelines for better patient care and practice management! At Epimed we are at your side to help you in with your practice management. Our Epimed's Physician Services can offer you and your staff the answers to many critical questions you may have. We are here for all your practice management needs.
Minimizing Risk. Every Procedure, Every Time.™
* Most commonly known as the Racz® Procedure, Lysis of Adhesions (a.k.a Lysis of Adhesions, Percutaneous Neuroplasty, and Adhesiolysis) was invented and developed by Dr. Gabor Racz in the 1980s during his tenure as Chairman of the Department of Anesthesiology at Texas Tech University Health Sciences Center in Lubbock, Texas.