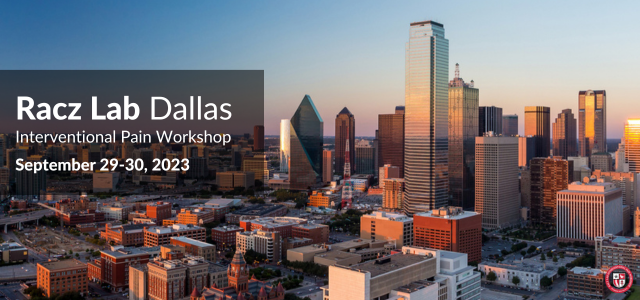 Join the highly esteemed Racz Lab Workshop in Dallas, Texas, September 29-30, 2023! Led by the expert guidance of Dr. Gabor Racz, this hands-on cadaver workshop allows participants to add new procedures to their pain practice.
The Racz Lab Workshop in Dallas
At Racz Lab Dallas, participants have the opportunity to explore a comprehensive curriculum designed to enhance their pain management skills. Under the expert guidance of renowned pain physicians, including Dr. Gabor Racz, attendees will dive deep into a variety of specialized topics.
Interventional Pain management Workshop
For this new edition several topics will be covered including:
the highly effective Epidural Lysis of Adhesions "Racz Procedure", Radiofrequency & Cryoneuroablation Techniques, Specialty Nerve Block Procedures, and Coding & Practice Management.
With the support of our esteemed instructors and the advanced curriculum, attendees will gain insights and techniques.
Learn from Dr. Racz
Dr. Gabor B. Racz is a Hungarian-born physician who completed his medical degrees from the University of Liverpool Medical School in England. He then pursued an anesthesiology residency at SUNY Upstate Medical Center in New York. Dr. Racz served in various roles, including respiratory consultant and Associate Professor at SUNY. In 1977, he became the first Chairman of the Department of Anesthesiology at Texas Tech University Health Sciences Center. Later, he focused on patient treatment and the expansion of pain services as the Director of Pain Services, with plans for an international pain institute in Lubbock, Texas. He is well known for being a founder of the World Institute of Pain.
Continuing Medical Education (CME) Credits at Racz Lab Dallas
;• Explain the importance of CME credits for professionals in the medical field.
• Discuss how attending Racz Lab Dallas allows participants to earn valuable CME credits, showcasing their commitment to ongoing professional development.
How attending Racz Lab Workshop Interventional Pain Management Procedures
Go to Razedu.com to learn more about the Lab in Dallas, Texas.
To register for the Racz Lab workshop in Dallas, follow these steps:
1. Visit the official Racz Edu website
2. Select the desired workshop date and location (Dallas).
3. Look for the registration section.
Secure your spot today and add new procedures to your pain practice at Racz Lab Dallas!
Visit Razedu.com to learn more and register now.